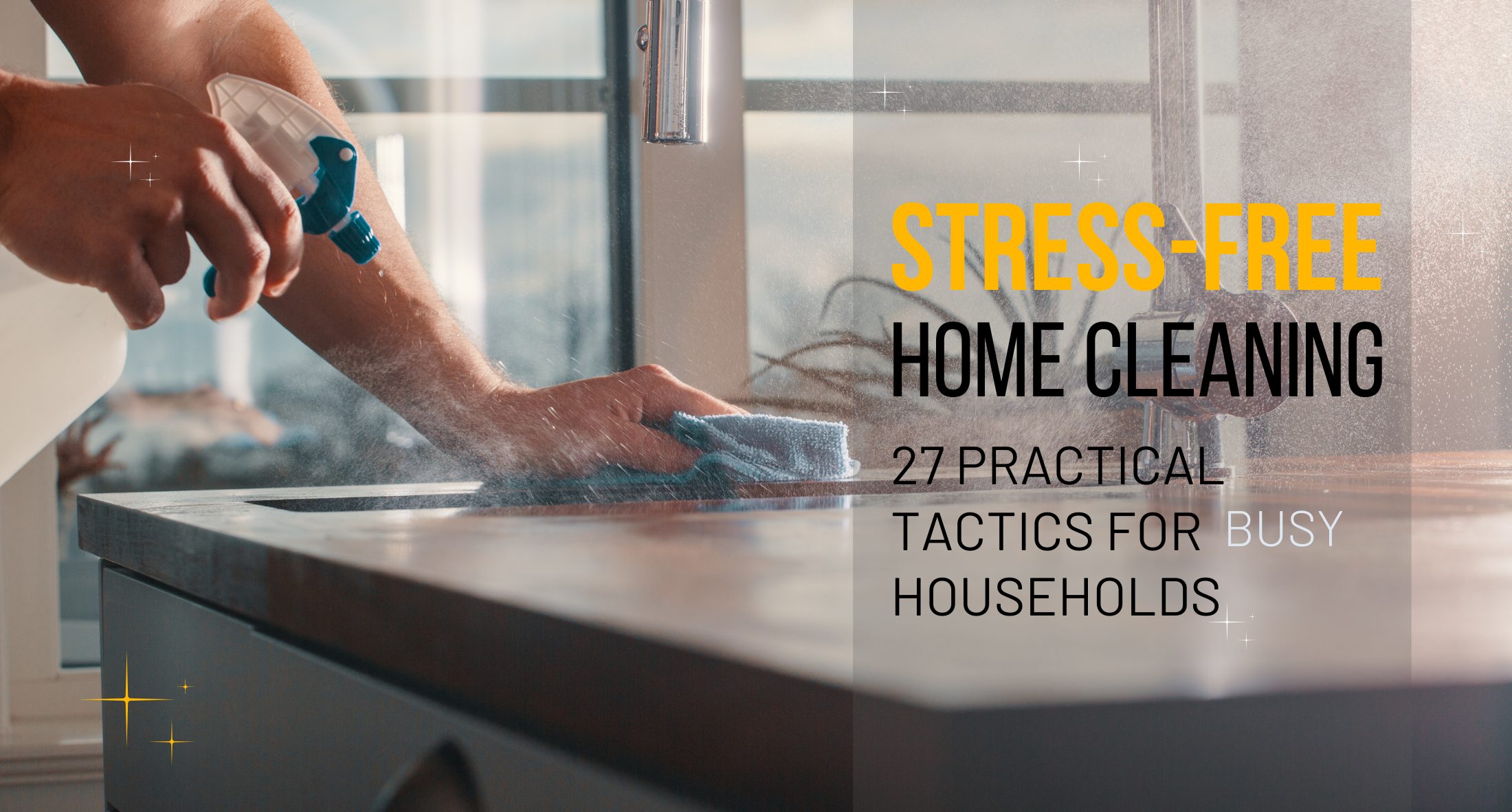 Keeping a clean and orderly home is a challenge for many of us. Between busy work schedules, social obligations, and family commitments, it's tough to keep up with daily chores—let alone larger seasonal tasks.
The effort is worthwhile, however. A sanitary environment can keep you and your family healthier by minimizing your exposure to germs and allergens.1 Plus, researchers have found that organized, uncluttered homes have quantifiable mental health benefits, too, including reduced stress, improved emotional regulation, and increased productivity.2
That's why I've rounded up my favorite tactics—from overall strategies to little tips and tricks—for keeping things tidy without spending all our spare time cleaning.
Set a Schedule for Daily and Weekly Cleaning
Creating a cleaning schedule that works for you is the best way to stay on top of things and avoid being overwhelmed. Here are a few of my favorite strategies:
Designate a day of the week for each task and add them to your calendar.
Create a shared schedule that assigns specific responsibilities to each member of the household.
Set a timer and dedicate 15 minutes a day to cleaning and decluttering.
If you'd like some professional help, reach out for a referral to one of my favorite cleaning services.
Tackle Bigger Chores Seasonally
Many home care tasks only need to be completed once or twice a year. Here are a few tips to stay on top of these chores:
Mark days on your calendar in advance to attend to annual or semi-annual chores, like cleaning gutters and washing windows.
Schedule just one primary task each weekend to ensure a good balance between chores and relaxation.
Designate a date two to four times a year to put away out-of-season items.
Take some time to sort (keep, sell or donate) your seasonal items before you pack them away.
Don't hesitate to delegate these larger home care tasks to professionals. Give me a call for a list of recommended service providers.
Reduce the Barriers to Cleaning
Set yourself up for success by ensuring you have the tools on hand to tackle small tasks with ease. Here are a few ways to make your cleaning supplies more accessible:
Store a broom, dustpan, and vacuum on each floor of your home so they're easy to reach.
Stash containers of disinfecting and glass wipes under every sink for a mid-week wipe-down.
Place extra bags beneath the liner of your garbage pails, so you'll have a replacement ready when you take out the trash.
Keep a paper shredder and recycling bin handy so you can dispose of unwanted mail as it's opened.
By strategically placing your tools and supplies in the locations where you're most likely to need them, you'll make cleaning less of a chore and more of a habit.
Stop the Clutter Before It Starts
Assign each item a home and create storage spaces and "drop zones" in key locations.3 Here are a few ideas to get you started:
Install coat hooks and shoe racks in the entryway for easy access.
Add a key caddy or shelf for essential items to get you out the door.
Hang a letter bin to capture mail and newspapers as soon as you walk into the house.
Place a donation box in each closet for items you no longer want or need.
Are you considering a larger organizational upgrade, like a custom closet or pantry system? Reach out for a free consultation to find out how the investment could impact the value of your home!
Tackle Small Tasks Right Away
Handling small tasks right away can reduce the need for lengthy cleaning sessions.3  Try working these changes into your routine:
Learn to clean as you cook, rather than piling it all up for later.
Hang bath towels on a bar immediately after use to cut down on the frequency of laundering.
Bring items with you when you leave a room, like dirty cups and plates.
Take out the trash when you leave the house to save a second trip.
If you implement these small changes, your home will stay neater—and you'll minimize the number of dedicated cleaning sessions you need to take on each week.
Embrace an Evening "Shutdown" Routine
Imagine your kitchen is a restaurant and you're tidying it up before closing down for the night. These simple steps will prepare you for the morning rush:4
Wipe down all surfaces, then toss your soiled washcloth in the hamper and lay out a fresh one for tomorrow.
Load and run the dishwasher every night so you can empty it the next morning.
Prepare for breakfast by programming your coffee pot and setting out some grab-and-go options.
If you complete these small tasks each night, you'll start the next day off right in a tidy, clean kitchen.
Think Outside of the Box When It Comes to Storage
I've found that using household items in innovative ways can help keep mess and clutter under control.5 Here are a few of our favorite swaps:
Place a magazine file in your kitchen for cookbooks, takeout menus, and meal kit cards.
Hang a pocket-style shoe organizer inside your pantry door to store spice jars and other small items.
Separate dress and athletic socks by turning an old shoe box into a drawer divider.
Repurpose jam jars by using them to store office supplies or bathroom essentials.
Store out-of-season clothes inside rarely-used suitcases, so all that space doesn't go to waste.
Just be sure that you're creating systems you can stick with and not putting things where you might forget about them later!
I'M HERE TO HELP YOU MAKE THE MOST OF YOUR HOME
Keeping your home clean and organized can be a continuous struggle—there's no need to feel ashamed of that. But taking the time to implement systems that work for you can make life more pleasant and less stressful in the long run.
Remember, I'm not just here to help you buy or sell a home. I want you to love living in it, too. Reach out if you need referrals for house cleaners, window washers, or other service providers that can help you make the most of your space.
Dorothy Trainer
REALTOR®
Graduate, REALTOR® Institute | Seller Representative Specialist
Dorothytrainer@jbgoodwin.com
P: 512.796.3723
The above references an opinion and is for informational purposes only.  It is not intended to be financial, legal, or tax advice. Consult the appropriate professionals for advice regarding your individual needs.
Sources: